Can I change the information in the Details pane?
Posted by Jim Keir on 30 June 2015 10:51 AM
Yes, you can change the order of the information in the Details pane. Long-tap the Details pane and two extra buttons will appear at the bottom, and re-order buttons on the right.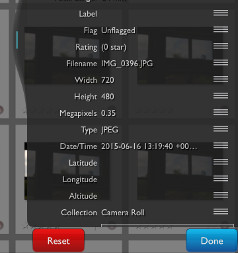 You can drag each item up and down in the list. When you tap "Done", the order will be stored and used in future.
If you choose, you can have a different order in the Grid and Map tabs. In the Settings tab, use the "Map Info panel order" switch in the "Map Options" section to choose whether or not to share the order of detail items.
---