Can I hide some of the collections in the Collections Panel?
Posted by Jim Keir on 29 June 2015 04:26 PM
Yes. There are two ways to limit the collection list.
One way is to type some text in the search box at the top of the list. The list of collections will be narrowed down as you type. This is a quick way of finding a particular collection if you know part of the name.
You can also hide sections of the display if there are sub-collections. These will appear with an arrow on the left-hand side. Long-tap on the collection which contains other sub-collections to hide all the sub-collections.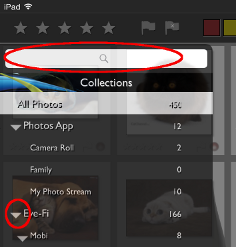 ---